Holidays
Beyond Rosh Hashanah and Yom Kippur
The Jewish holidays are annual festive occasions, and we celebrate them in Shir Tikvah style—with each other. These lively community events are fun for children and adults, and we welcome nonmembers to join us.
See you at Sukkot, Simchat Torah, Hanukkah, Tu B'Shevat, Purim, and Shavuot!
If you'd like to find out more about the Jewish holiday cycle, we've written a guide.
Check the Temple Calendar for the must up-to-date schedule. We typically post information on the front page of our website as each holiday approaches.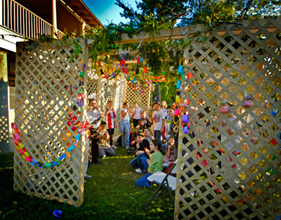 Celebrating Sukkot
Wed, November 29 2023
16 Kislev 5784
Wed, November 29 2023 16 Kislev 5784